A Guide To Help You Find A Pukka New Year's resolution!
A Guide To Help You Find A Pukka New Year's resolution!
A guide to help you find a Pukka New Year's resolution that you'll stick to!
As we turn over the first few pages of the new year, we start reflecting on the previous year and thinking about what New Year's resolutions we hope to keep. Did you know that 54% of the UK population will set a New Year's resolution? However, only around 8% of people will keep to them, oops! The trick to choosing the right resolution is to choose something that's manageable, meaningful and easy to track. Creating an unrealistic resolution may make you part of that 8%. However, we're here to help you find an achievable, realistic Pukka New Year's resolution! Let us know if you take up any, and of course, if you keep to it.
1. Start a project you've been putting off.
The new year is a great time to start a new project that you've been putting off! It might be an idea for a small business, or perhaps you want to start a blog. Not sure where to start? Grab yourself one of our project books and get writing your ideas down. The best part, you can split each individual subject or topic with our handy dividers!
2. Declutter your home.
Walking into the new year with a fresh home is a great feeling, it's time to tackle that cupboard you've been meaning to clear out! (We all have one.) Another way to declutter your home is to take a look at your schedule, our home planner is a great way to keep on top of your busy lifestyle. The home planner includes a variety of pages including important monthly dates, a 12-month undated calendar, a weekly meal planner, and pages for your to-do list!
3. Start a new hobby.
Have you dreamt of starting a new hobby but haven't had the confidence or time to do it? The new year is a perfect place to start. Here's a list of some hobbies you could start: knitting, gardening, writing, learning a sport, taking up the gym, going walking, drawing, the list is endless!
4. Plan ahead.
We're all guilty of it, we get to February and all your plans have gone out the window and you've double-booked your yoga class with dinner with your bestie! Fear no more, this year we will help you stay organised with our amazing range of planners. We've got a bunch of different planners for all types of people including wall planners for students and working professionals, weekly planner pads for students, to-do lists and even 2023 diaries to keep on top of your super busy schedule.
5. Learn a new language.
Learning a new language is a great New Year's resolution to take up, and we've got the book to help you. Our vocab book will be your ultimate companion to learning everything from bonjour to more complicated phrases like j'adore la papeterie (heads to google translate...) Our vocab book is perfect for learning words, and meanings. There are plenty of advantages to learning a new language such as opening up job opportunities, giving your brain a boost, getting insight into other cultures and even meeting new people!
6. Spend less time on your phone.
Let's admit it, we all love our phones. They can be great for reconnecting with old friends, keeping up with family and discovering new passions. But, social media can also consume everything we do and can often have a very negative effect on our lives and the way we view ourselves.
Why not replace the phone from your hand with a notebook? In fact, it's proven that writing down your notes will help you understand and remember them better. Plus, nothing beats the feeling of writing in a brand-new notebook. If you're not a stationery addict like us and don't have a thousand notebooks hanging around, why not browse through our amazing range here.
7. Start looking after your finances.
This is your year. As everything in the world is going up, it's important to take time to look after your finances. This may seem like an unmanageable task, but with simple steps, you can start planning for the future. Getting started can be daunting, however, our budget planner makes it less scary and more fun! With an abundance of pages to help you stay on track including a saving tracker, bill payment checklist, debt payoff and tracker, monthly budget, and expenses page.
8. Keep a Journal.
Journaling is an excellent way to combat stress by getting your thoughts and feelings out. It's been proven that keeping a journal and updating it daily can help significantly with mental health conditions such as anxiety and depression. You can even start slowly and sit down once a week to reflect on the week. After time you will find yourself building journalling into your daily routine!
We hope this has helped you discover some easy New Year's resolutions that you might take up!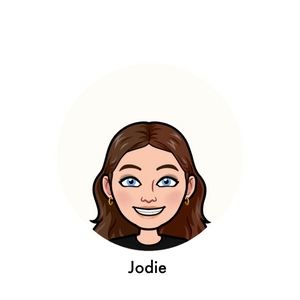 Follow us on socials!
Instagram - Facebook - TikTok - Twitter